Following My Own Pace
Hits : 347
Registration Date : 2020-07-01
A Conversation with Alumni
Following My Own Pace
Alumnus Jo Sumi (Dual Master's and PhD Program at UST-Korea Institute of Materials Science (KIMS) Campus, Materials Science and Engineering Major, Graduated in 2018, Currently a Postdoctoral Fellow at Helmholtz-Zentrum Geesthacht Center for Materials and Coastal Research)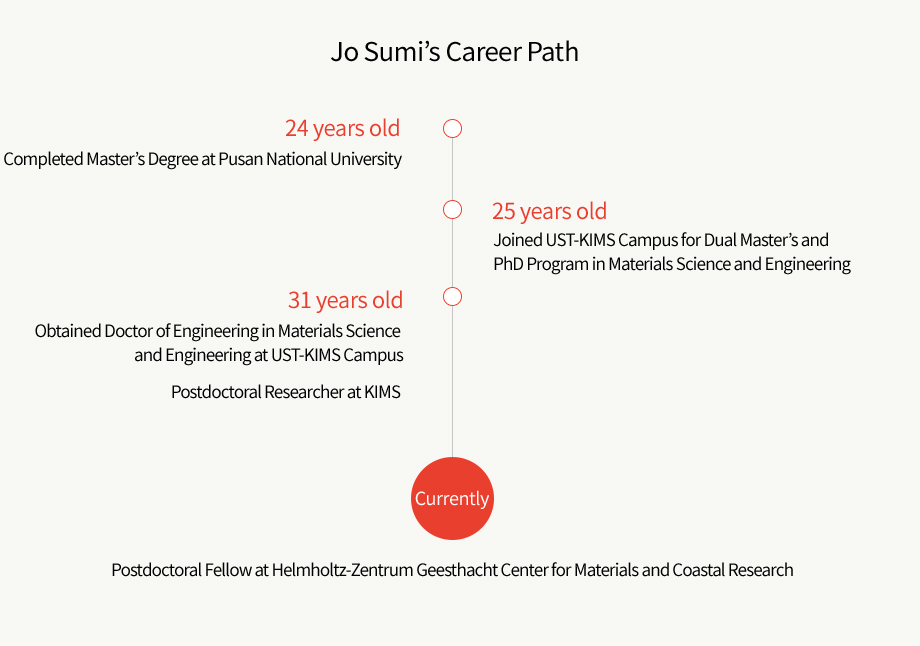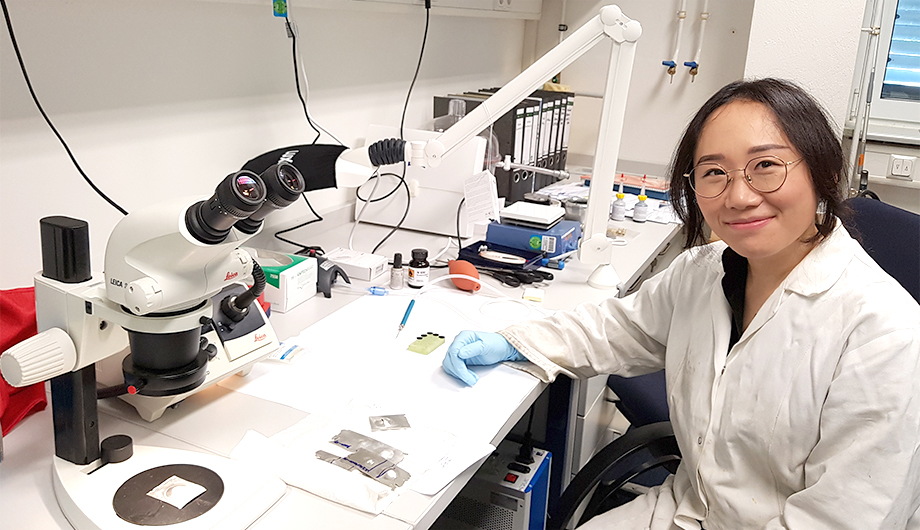 "I've always dreamed of experiencing the wider world abroad. I often wondered the way people in other countries think and what kind of different research methods they have. And if I were part of it, what would it look like? While studying at UST, I came to the realization that there are always people from a variety of fields of study with diverse thoughts, which only kindled my desire to experience the bigger world."

When Jo finished her doctorate degree at UST-KIMS Campus and continued working at KIMS as a postdoctoral researcher, she finally encountered an opportunity that would take her to the bigger world that she has always dreamed of, which was a postdoctoral fellow position at the Helmholtz-Zentrum Geesthacht Center for Materials and Coastal Research in Germany. She didn't hesitate for a bit and immediately headed to Germany. The journey is all the more special because she is with her son who she loves more than anything.
Her Heart Leading to UST
Jo finished her master's degree at her college and was planning for her doctorate program at another school. In this time period, she had a chance to work at KIMS. That's where she was able to experience UST's education system, which changed the course of her life.

I was fascinated that researchers in different fields get together and have discussions with students and sometimes even work together. It was quite unique in comparison with other graduate schools. It was also interesting to me that UST offers another lab scale as well as conducts practical research in direct or indirect collaboration with businesses.
That's the story how Jo started her dual master's and doctorate program at UST-KIMS Campus. She studied magnesium, the lightest in metal materials. At that time, magnesium was studied to improve fuel efficiency of a variety of transportation equipment such as automobiles. Jo's research focused on developing magnesium alloy with improved strength and formability as well as identifying mechanism to enhance its properties.

She conducts research on improving both formability and strength of magnesium sheets at her current job. In fact, magnesium alloy development was a popular material for future generations, drawing a lot of attention even just a few years ago. However, as researchers faced complex issues, it has lost the spotlight worldwide in competition with other light metals and composite materials.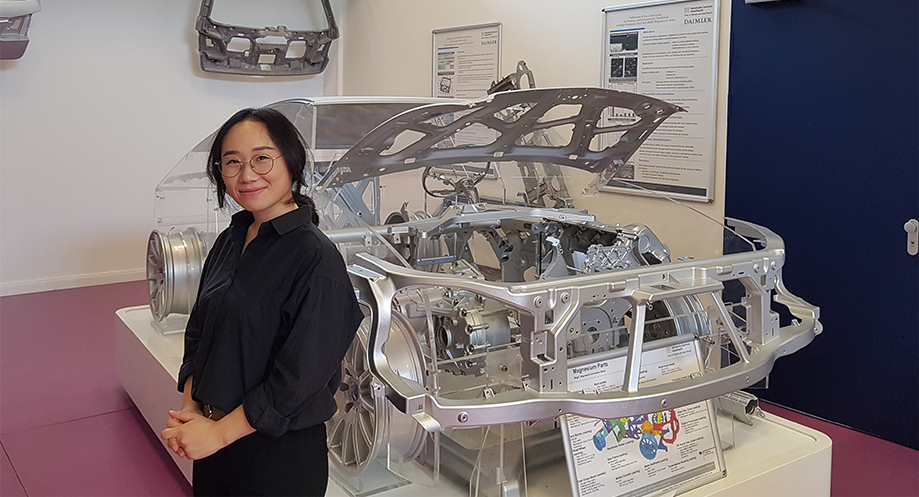 I don't think the difficulty magnesium imposes is a good enough reason to stop the research. When we see more research outcomes and build a database, we can expect magnesium alloy's application one day. Even if it doesn't happen that way, I believe solving the problem and logging every step of it will still be useful. Nonetheless, I genuinely hope that expansion and application of magnesium alloy in practice.
Postdoctoral Fellow Life, More Meaningful with Her Son
Living abroad as a postdoctoral fellow alone is hectic and challenging enough, but Jo is living with her son in Germany. When she was studying for her degree at the school, she promised herself and her son that she would be present at the beginning and end of the day for her child after she graduates. She managed to keep that promise even in her new journey to a foreign country.
"In the first year of my dual master's and doctorate program, I unexpectedly got pregnant. When everyone was off work, I went to my academic advisor Professor Kim Young-min to tell the news. As soon as I saw him, though, I burst into tears. The professor told me not to rush and I should get back to work only after I get enough rest after the birth."

Pregnancy and birth was not part of her plan. So Jo couldn't help but feeling hasty. She came back to school 3 months after she gave birth and saw her child only on the weekends. From 3 months old to 5 years old of her son's life, she had been able to spend time with him only on the weekends.

I didn't get to see my son growing, which left me extremely depressed. I missed him a lot, too. I always had to live with guilt that I'm not committed to my role as a mother. So I decide that I will always be with him at the beginning and the end of every day.
For that reason, Jo's new life in Germany is all the more special. Now, she can find the clear boundary between work and being a parent. Germany's social system also encourages her decision. She could have time to reflect on herself.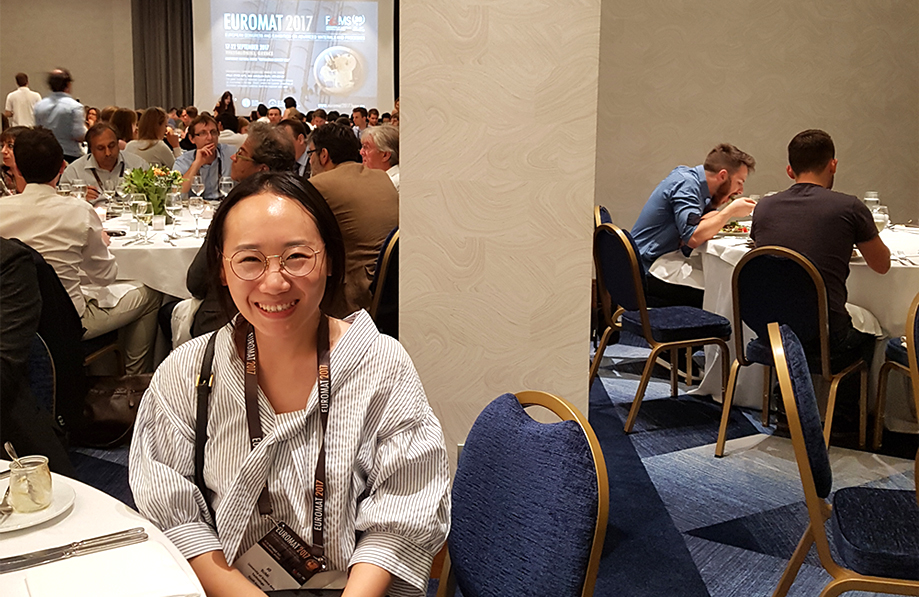 "Including knowledge and research methods, I gained a lot here. But above all else, now I have strength to accept new things and can focus on my research more easily. That happened as I was pulled out of chaos that was created by my inner conflict on many roles―student, mom, daughter, etc.―that I had to be responsible for during my graduate studies."

As Professor Kim advised Jo to never give up, she wants to tell people who have conflicts between parenting and chasing their career goal, "If you are desperate for a challenge, you don't have to give up one over the other." Of course parents will have more responsibilities and find things more challenging compared to people with no children, but she believes that if you follow your own pace, you will eventually get to the finish line, only as a better person than the beginning. We agree: how much does a "fast accomplishment" matter in the end? What matters the most is to protect things and people we love and keep moving forward to achieve our dreams. UST will always support Jo's dream, the one that she is conscientiously following.