Studying and Researching Together, We're a Team!
Hits : 669
Registration Date : 2020-05-06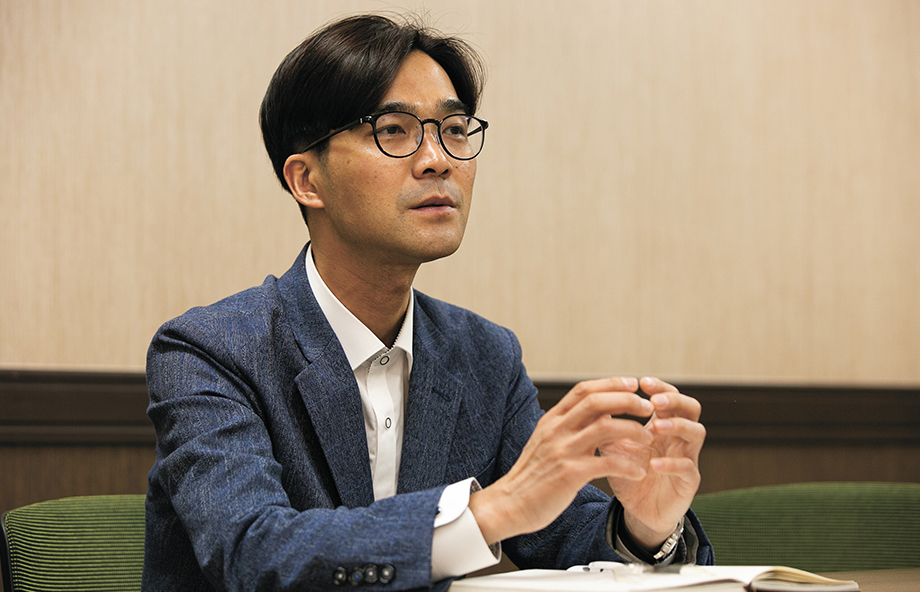 Reflections on Teaching
Studying and Researching Together, We're a Team!
Professor Hwang Seong-yeon (UST-Korea Research Institute of Chemical Technology (KRICT) School)
Last January, a research outcome at KRICT surprised everyone: the joint team of Dr. Hwang Seong-yeon and Park Je-young's research team and Professor Choi Bong-gil's research team from Kangwon National University has successfully developed a "wearable sensor" using material that recovers by itself in 20 seconds from any scratch or damage. We met with Professor Hwang Seong-yeon at KRICT where spring flowers were in full bloom to talk about this achievement. During our interview, we were impressed not only by his outstanding research accomplishment but also the values he holds as a researcher and an educator that resonated with us.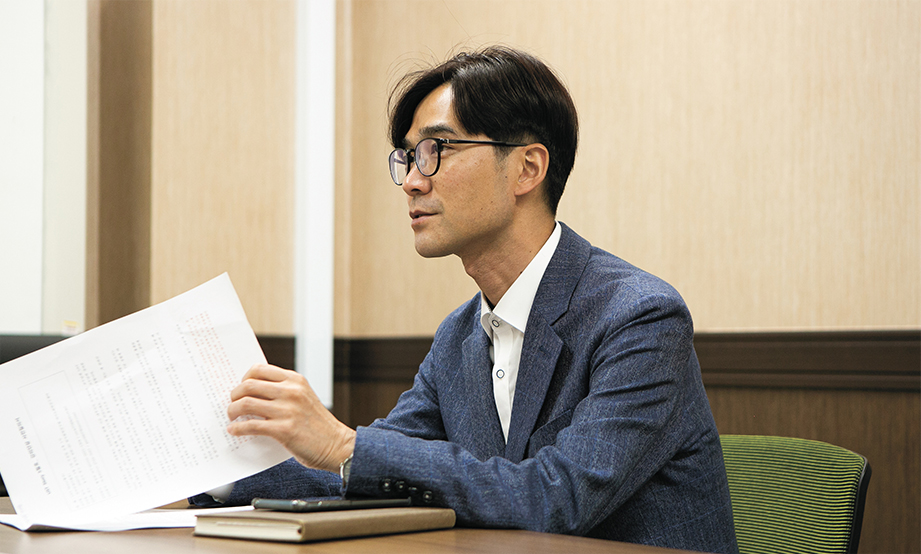 Inventing a Material to Change Our Everyday Lives
Professor Hwang has conducted research on bioplastic for 20 years. For half of these years, nobody showed interest in this field of study. He didn't give up and instead quietly yet relentlessly dedicated himself to the research. It was like walking through a long dark tunnel by himself. Things have changed in recent years, however, as people have become more aware of environmental issues and started paying attention to bioplastic. Above all, 20 years of his effort and passion resulted in this exceptional outcome.
We mentioned above, Professor Hwang's research team has successfully developed a "wearable sensor" using a material that recovers by itself in 20 seconds from any scratch or damage. We need to take a closer look at this "self-healing material." It is eco-friendly and infinitely practical.

Usually for self-healing materials, eco-friendly monomers such as citric acid or succinic acid extracted from citrus, which is biomass, are used. Our result was four times faster than the world's fastest self-healing material that Sichuan University in China has. The physical property is also better.
Using this material, Professor Choi Bong-gil's research team from Kangwon National University created the sensor the detect components of sweat produced during workouts. It can be used to diagnose myocardial infarctions, muscle spasms or hyponatremia by measuring levels of potassium, sodium, and hydrogen. One experiment was conducted to prove the concept: a subject wore a sensor head band and vigorously worked out for 50 minutes, while sensor accurately measures sweat electrolyte concentration. Though the sensor was cut off in the middle of the workout session, it came back to function in 20 seconds. The experiment focused on utilizing the technology for wearable medical devices but the material that the technology can be applied is unlimited from clothing to displays.
Three Professors and Four Students: We're a Team!
Professor Hwang started working at UST as a teacher since 2015. Since the field of bioplastic was unpopular and unknown to most people, he chose to educate students with the knowledge and research capacity he had accumulated in hopes to foster experts of this particular field in Korea in the future.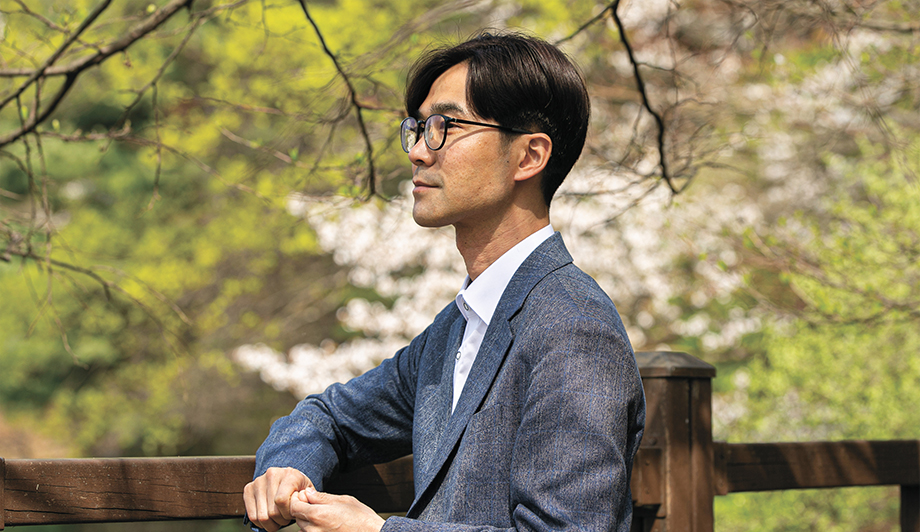 During his first year of teaching, he had to wrestle with a lot of thoughts. Though it was fine to do research by himself in the past, the research environment has changed and without collaborative and integrated work, it's not easy to produce a quality result. In other words, the situation called for understanding and cooperating with other people. Professor Hwang found a way by working together with Professor Park Je-young and Oh Dong-yeop, making up for what was lacking in each other's courses and creating a team effort education system in 2016.

In this process, communication between professors and students came naturally. Regardless of their designated academic advisor, students would find a professor who can help them the most and ask questions to learn more. When students feel the sense of "us" rather than "yourself," I believe it will organically lead them to grow as good-natured researchers and they can carry this education method to other students.
It took a while for students to adapt to this new way of learning, but once they get hang of it, the outcome was unexpectedly incredible. The intention of three professors to broaden the knowledge of their students was well aligned and they themselves are seeing research performance improved. Above all, they started seeing a change in their students' eyes and actions full of confidence.
Opportunity to Learn the Value of Research Leads to Strong Motivation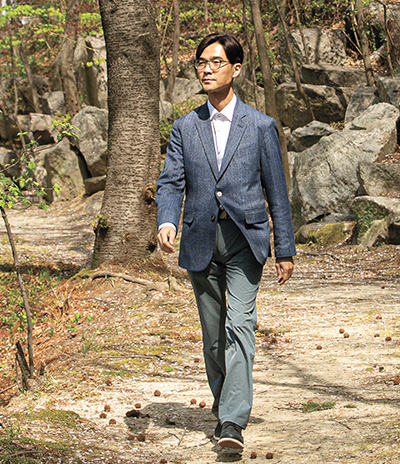 Currently, Professor Hwang's research team is working passionately on developing a high-strength biodegradable bioplastic material that will replace petroleum-based plastic that causes environmental pollution. This technology has already been developed well enough to be transferred to large corporations in Korea. However, the team does not want to settle where they are now but desire to work on various additional materials.

"Achievement on developing the bioplastic material has been introduced to the public through the media several times, which students found quite motivating. The fact that the materials we have invented will be utilized for goods is a golden opportunity to feel the value of the research we're doing. We'd like to continue providing the self-driven research environment for our students and the opportunity to motivate them."

Professor Hwang and the members of the research team endeavor to reach their goal to be the "first mover" in the field of bioplastic. No one in the team is alone; instead they exercise synergy. We hope that their passion brings Korea's bioplastic efforts to the next level.