I Want to Be an Example to My Coworkers and Students
Hits : 598
Registration Date : 2020-08-31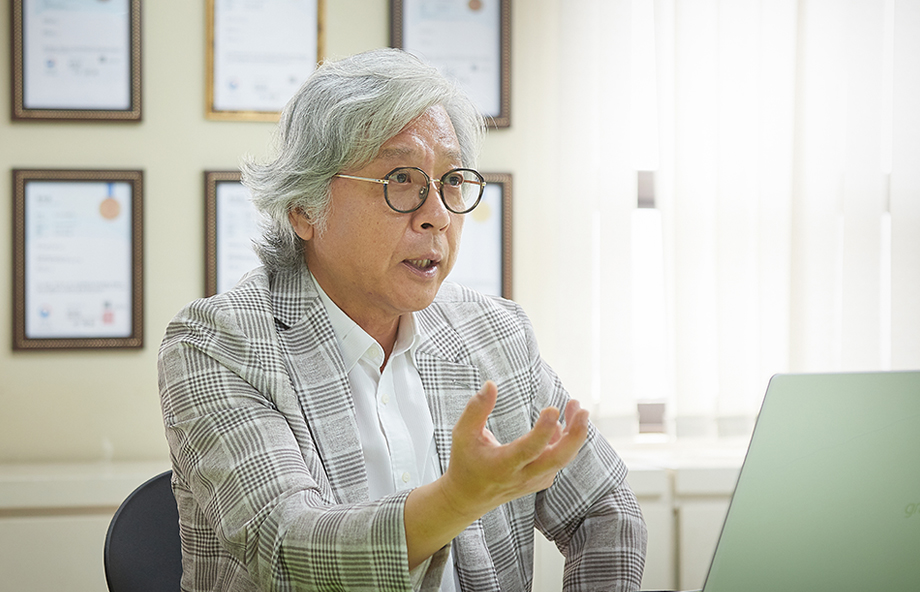 Reflections on Teaching
I Want to Be an Example to My Coworkers and Students
Professor Park Se-jin (UST-Korea Research Institute of Standards and Science (KRISS) Campus)
After the long rainy season, we visited Sewon Intelligence that was founded less than two months ago. We wanted to meet Professor Park Se-jin of UST, who is also the CEO of the company and director of the Safety Convergence Business at the Safety Measurement Institute at KRISS. Right before his retirement, he began his new journey as an entrepreneur. With the experience he has attained since 1988 at KRISS, his goal is to establish a company that he is proud of to his coworkers and UST students. Having a conversation at the company that was just beginning, we wanted to share this excitement with everyone.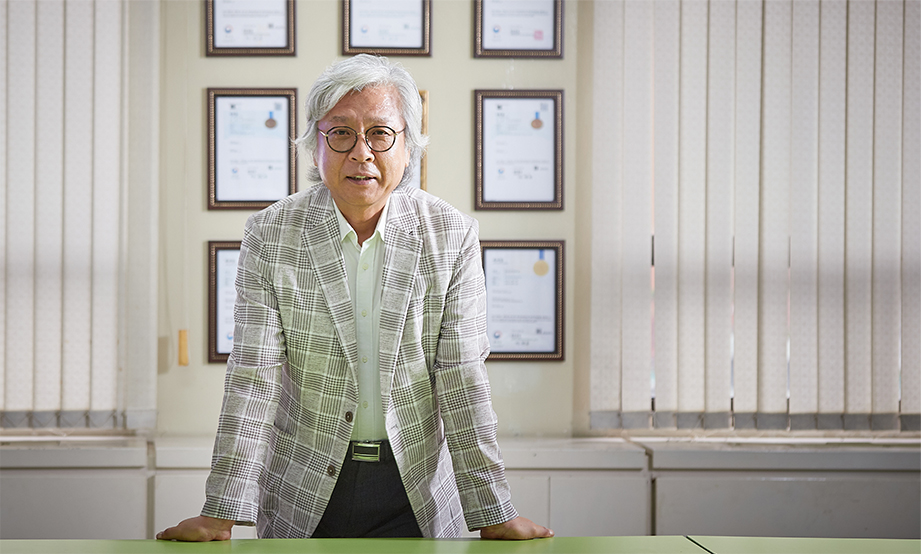 Real-time Health Monitoring System to Keep You Healthy in Daily Life
Starting a company with only 2 years left until retirement is certainly not an easy decision to make. Everyone would wonder why he made such a decision. The Korea Institute of Standards and Science, Korea Institute of Energy Research and Korea Atomic Energy Research Institute have organized the KSB Convergence Research Group for developing the core technology for a self-learning knowledge convergence super brain under the supervision of the Electronics and Telecommunications Research Institute. KRISS thought about how to utilize this "super brain" and found an answer in the field of health. It was about developing a system to monitor people's health. Among many life-threatening diseases, he made a specific goal to target strokes and catch the prognostic symptoms.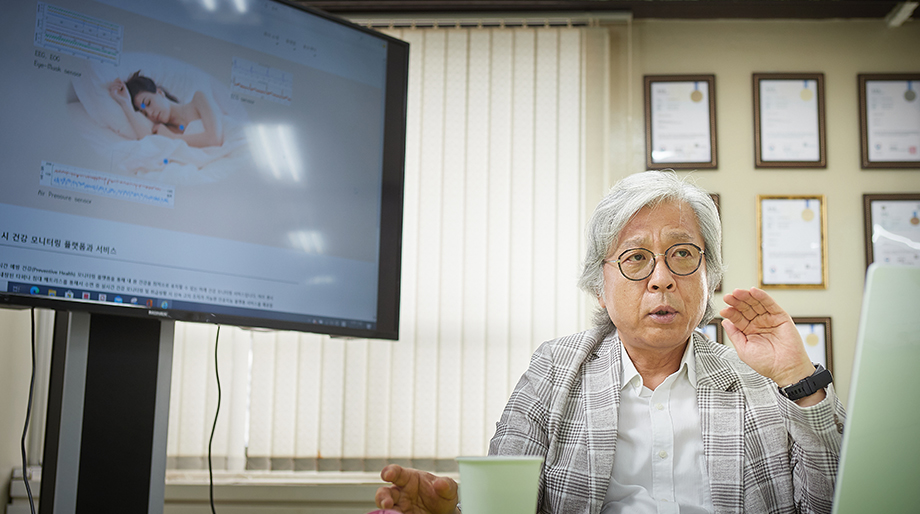 As a result, he has succeeded in developing a system that can monitor not only the symptoms of a stroke while sitting in a seat in a car or train, walking or sleeping but also overall health status. This technology was introduced at the International Consumer Electronics Show in January this year and drew great deal of attention.

The biggest feature of this technology is that it allows you to monitor your health in a variety of situations. In addition, various types of sensors can collect data on movement, respiratory volume, heart rate, brain waves, eye movement and heart rate during sleep.

I saw potential there. I was convinced that I could run a business with this technology. Particularly as COVID-19 heralded the contactless culture, I was certain that if we can take care of our health whenever and wherever we want with a real-time health monitoring system, it will significantly contribute to maintaining our health.
Real-time health monitoring system, born during the KSB Convergence Research Group's study, was transferred to Sewon Intelligence. The group's project will be completed next year. Professor Park's goal is to raise the value of the company by at least 10 billion KRW before that.
Students Who Experienced the Process of the Company's Foundation
It's an incredible accomplishment that the research outcome from the government funded institute initiated the business as a core business model. Furthermore, the fact that UST students were able to be part of the foundation and the progress of the company is quite meaningful. There are three students that Professor Park advises, Kalaivani Rathakrishnan, Iqram Hussain and Seo Young. To them, today's experience is the stepping stone for their bright future.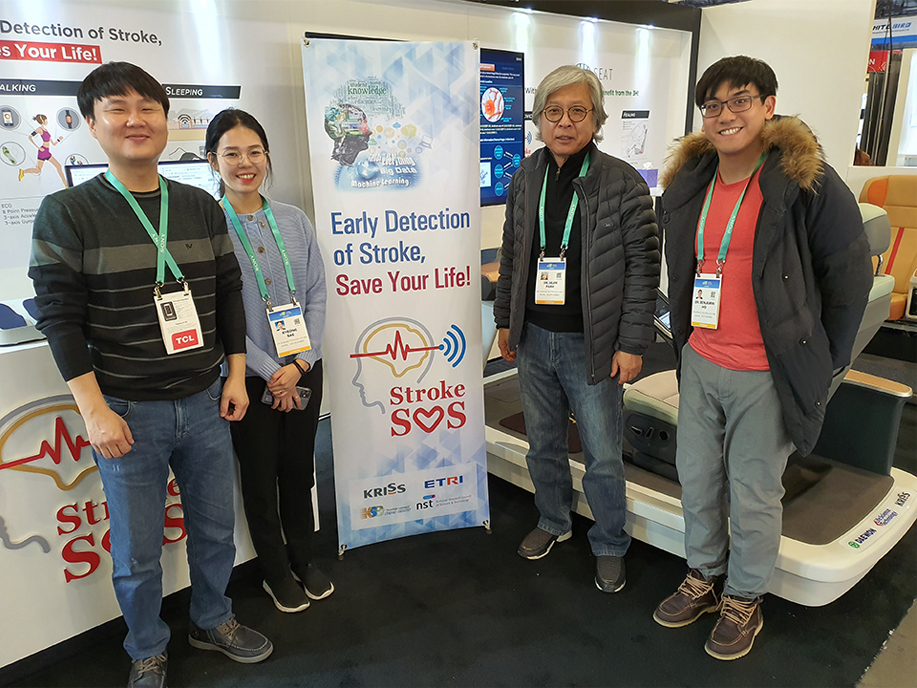 I like that UST allows you to work on practical research while being part of a government funded institute. On top of that, students get to experience the beginning and the growth of the company and see how the research we have conducted together is applied to running the business. It's truly an exciting experience for them.
Sewon Intelligence had an opening ceremony on June 30. Two days before the ceremony, students asked Professor Park to come to the lab; they wanted to present him the CEO nameplate for his new office. Students wanted to share their well wishes and spend this time together to celebrate their teacher's new beginning. We could tell how deep their relationship is that has been built for a long time.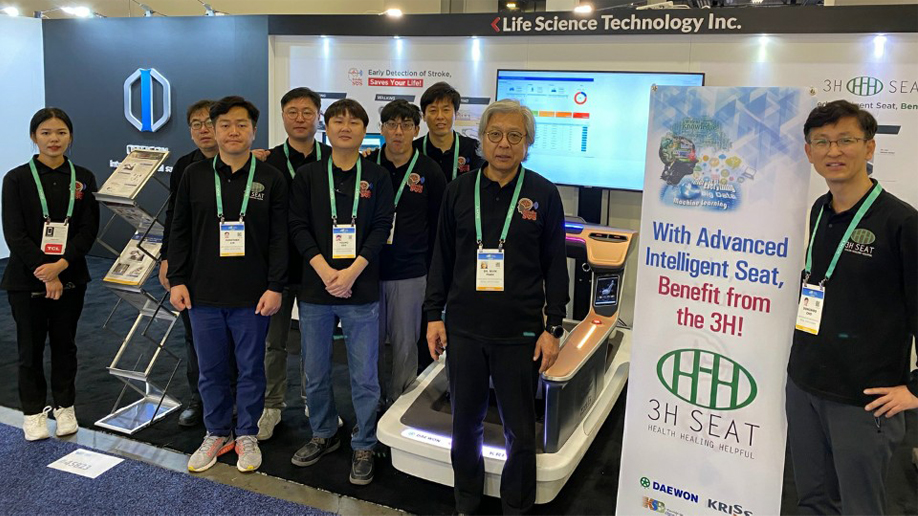 "My students said they chipped in and got the nameplate for me. I was playfully scolding them for spending money for such a thing but couldn't stop smiling because it's so thoughtful and nice. I appreciate it a lot."

One of the students, Iqram, showed his wish to work at the company after his graduation. To maintain a teacher and student relationship like this is such a heartwarming thing. Professor Park said he wanted to build a family-like relationship with both his students and the company. We could clearly see how much he meant it and how it was vibrating to people around him.
Determination to Show the Company's Growth
The company just took its first step but Professor Park is determined; he wants to not only create an environment where people can maintain their health using a real-time health monitoring system, but also show how he can grow the business to UST students and coworkers at the institute.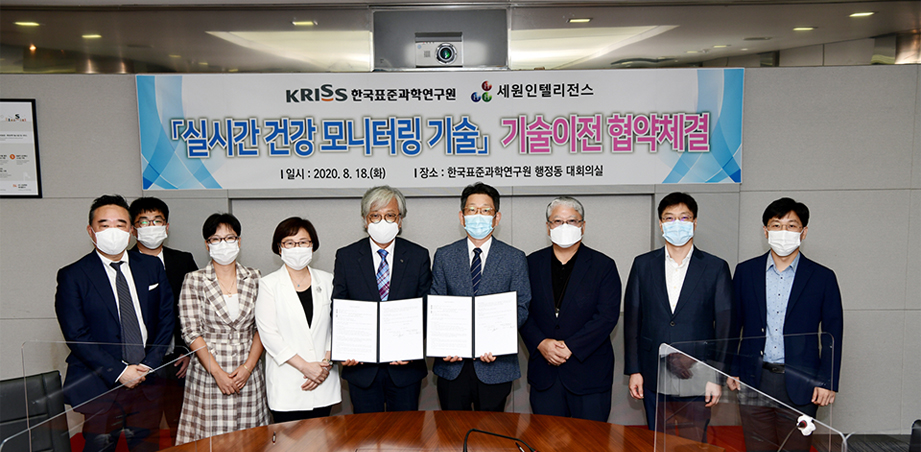 "I'd like to be a great example to my coworkers and UST students. I believe that the technology born during the research at the institute can make a world renowned business and I want to show them it is possible."